Copper Sulphate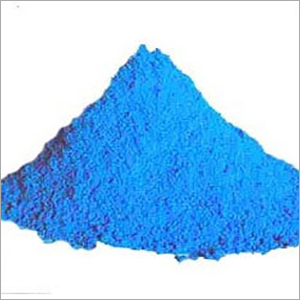 Copper Sulphate
Price And Quantity
Product Specifications
Product Description
We are the most renowned name among the manufacturers and exporters of premium quality Copper Sulphate Powder 24-25%. Widely used in fruit farms this chemical helps to control fungus intrusion. We use the best grade of composites under the guidance of our highly skilled professionals in preparing this chemical. Available with us in various packaging options, we offer this Copper Sulphate Powder Feed & Agri Grade at nominal prices to the clients.
Features:

High effectiveness
Purity
Longer shelf life
Our copper sulphate, otherwise called cupric sulfate, which is the inorganic composite. More seasoned names for this composite incorporate bluestone, Roman vitriol, blue vitriol and vitriol of copper.
The pentahydrate is the most normally experienced salt, which is brilliant blue in color. It exothermically breaks up in water to offer the aquo complex that has octahedral sub-atomic geometry. The form of the strong pentahydrate uncovers a polymeric form where copper is once again octahedral yet conjugate to four H2O ligands. Our copper sulphate focuses are interconnected by anions of sulphate to create chains. Further, the white powder is known as Anhydrous copper sulfate.
Occurrence and Preparation
Planning of our copper sulphate through the process of electrolyzing sulfuric corrosive, utilizing copper electrodes.
It is processed modernly by processing copper metal with hot solution of sulfuric corrosive or its oxides with weaken sulfuric corrosive. For lab application, our product is normally obtained. It can additionally be made by gradually filtering poor quality copper metal in air; microscopic organisms might be utilized to hurry the procedure.
Chemical Qualities
Our copper sulphate pentahydrate decays prior to liquefying. It forfeits two water atoms after heating at the temperature of 63 C (145 F), trailed by two additional at 109 C (228 F) and again, the last water particle at 200 C (392 F). Lack of hydration continues by decay of the tetraaquacopper moiety, double contradicting water arranges are lost to provide a diaquacopper moiety. Further, the second lack of hydration step happens with the last two water arranges are lost. Intact lack of hydration happens when the main unbound water atom is lost.
It responds with solution of hydrochloric corrosive to offer tetrachlorocuprate(II).
Applications
As A Herbicide And Fungicide
Our pentahydrate of copper sulfate acts as a fungicide. In any case, several parasites are fit for adjusting to hoisted conditions of copper particles. By blending a water concentration of copper sulfate as well as a mixture of slaked lime that one acquires the Bordeaux blend, a mixture of calcium sulfate and copper hydroxide, which is utilized to regulate the fungus on melons, grapes and different berries.
Cheshunt intensify, a blend of ammonium carbonate and copper sulphate, utilized as a part of agriculture to counteract moistening off in seed plant. Its utilization as a weedkiller is not farming, yet rather to direct intrusive oceanic plants as well as the plants' roots that might be located close pipes including water. This is utilized as a part of swimming pools like an algicide. A weaken concentration of our copper sulphate is utilized to process fish tank fishes for parasitic diseases, as well as is additionally utilized to expel snails from water tank. Copper particles are profoundly lethal to fish, in any case. Most types of algae may be directed with low solutions of copper sulfate. It hinders development of microorganisms, for example, Escherichia coli.

Specifications:

| | |
| --- | --- |
| ELEMENTS % | W/W |
| Cobalt | Co 21.00% |
| Nickel | Ni 0.02% Max |
| Sodium | Na 0.02% Max |
| Calcium | Ca 0.02% Max |
| Iron | Fe 0.004% Max |
| Copper | Cu 0.004% Max |
| Zinc | Zn 0.004% Max |
| Manganese | Mn 0.004% Max |
| Cadmium | Cd 0.004% Max |
| Lead | Pb 10 ppm |
Trade Information
All India

ISO Certificate 9001 : 2015