Cobalt Carbonate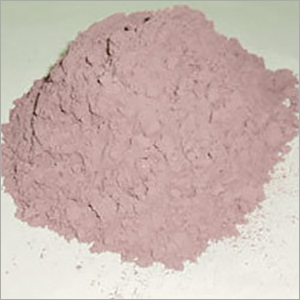 Cobalt Carbonate
Price And Quantity
Product Specifications
Product Description
In our wide range of chemical products, we are offering the best quality Cobalt Carbonate to the clients. Highly appreciated by the clients for its precise composition this powder is used as a dietary supplement for the cattle in order to fulfill their mineral requirement. Processed and packed in our state of the art facility under the guidance of highly skilled professionals, our Cobalt Carbonate is approved by various institutions for its safe consumption.
Features:

High margin of safety
Longer shelf life
Accurate composition
Our cobalt carbonate is a tan powder of pink color. It is a solid colorant as well as quite often delivers blue in coatings. This is a to a great degree dynamic melter. The carbonate type of cobalt is fine grained and scatters much better in the glaze melt and coating slurry, it offers a more equally dispersed shading than cobalt oxide. In any case, as with different carbonate, it makes gasses as it disintegrates and in addition, these can bring about blisters or pinholes in coatings in the event that they have to escape when the coating requires to solidify. Further, our product includes less CoO.
Many a times, our cobalt carbonate different in color in the form of raw powder (darker and lighter). It is due to the accessibility forms that are not really CoCO3 yet rather a blend of the hydroxide and the carbonate.
The hypothetical oxide state possesses 93% CoO though this possesses 63%. So on the off chance that you need to change from the oxide into carbonate in a equation, enlarge by 93 as well as divide by 63. Moreover, to change from carbonate into oxide increase by 63 as well as divide by 93. Yet, recall that it will be rough, you will probably require to tweak the sum in view of fired outcomes. Furthermore, the nature of the shading might be distinctive. Consider utilizing a stain as a superior solution.
Our cobalt carbonate is made from a fluid response between sodium carbonate and cobalt II acetic acid derivation to make red violet crystals, which are recuperated by filtration. Further, the material is indissoluble in frosty water yet will deteriorate in heated water.

Applications:

For agricultural products
Animal feed
Feed grade minerals
Micronutrient product
Feed premix plant
Technical Details:
| | |
| --- | --- |
| Formula | CaCO3 |
| Appearance | Fine, free flowing powder without any lumps |
| Colour | Pink to Violet Colour |
| Odour | Odourless |
| Moisture NMT | 6% |
| Bulk density | 0.64 - 0.96 g/ml |
| Sieve analysis | 98% should pass through 150 micron |
| Purity CoCO3 NLT | 95% |
| Co Content NLT | 46% |
| Lead NMT | 0.00% |
| Mercury | Nil |
| Arsenic | Nil |
| Cadmium NMT | 0.00% |
| Nickel NMT | 0. 0400% |
Trade Information
All India

ISO Certificate 9001 : 2015