Leather Chemicals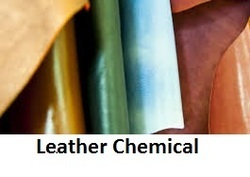 Leather Chemicals
Product Description
Being a renowned manufacturer in the domain of chemicals, we are successfully exporting an excellent stock of Leather Chemicals. These chemicals are wisely processed in strict accordance with industry standards using high quality compounds sourced from reputed vendors of market. We provide chemicals for the production of leather for garment, shoe, upholstery, automotive and other goods. These chemicals are offered in air tight packing. Before the final dispatch in market, these Leather Tanning Chemicals are stringently tested on various standard quality parameters.
Features:
Long shelf life
Excellent composition
Do not change the properties of leather

The worldwide marketplace for Leather Chemicals is impelled by the developing shopper hunger for leather items, for example, gloves, sports goods, upholstery, footwear, garments and many more and the resulting increment in leather manufacturing exercises. Further, the market additionally stands to profit by the developing car production fashion and rising buyer inclination for leather based car interior and upholstery detailing. Fixing natural direction is prompting the ouster of set up chemicals that in return is prodding the demand for creative eco-accommodating options.
Our leather chemicals incorporate chemicals utilized for tanning, coloring and retanning over different phases of leather manufacturing procedure. The industry that make leather relies on the changing situation in the fashion business. Resurgent interest for automotive and shoes in Asia Pacific and India gives a decent presage to leather chemicals to develop altogether. At present, health and sustainability impacts oversees the sorts of chemicals utilized as a part of leather making and powers the utilization of eco-accommodating and profoundly propelled chemicals. Our gamut of leather chemicals contains silicone emulsions, which confer a decent hand-feel.