Magnesium Sulphate Monohydrate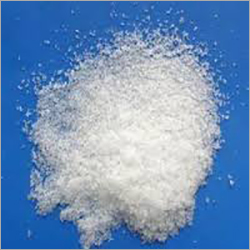 Magnesium Sulphate Monohydrate
Product Description
Chemical Formula of our magnesium sulphate monohydrate is MgSO4H2O.

Our magnesium sulphate monohydrate is a non-natural salt (concoction compound) comprising magnesium, oxygen and sulfur, with the equation MgSO4. This is often experienced like the mineral epsomite of heptahydrate sulfate (MgSO47H2O ), usually known as Epsom salt, taking its nomenclature from an intense saline spring, wherein the salt was made from the springs, which emerge where the permeable chalk matches non-permeable London mud. Our monohydrate is discovered like the mineralkieserite.
Agriculture
In planting and different agriculture, our product is utilized to adjust a sulfur or magnesium inadequacy in soil; further, magnesium is a basic component in the chlorophyll particle, and on the other hand, sulfur is another imperative micronutrient. This is most normally used to pruned plants, or to eager for magnesium products, for example, roses, lemon trees, peppers, potatoes, tomatoes and carrots. The benefit of our magnesium sulphate monohydrate over different magnesium soil changes, (for example, dolomitic lime) is its elevated solvency that additionally permits the alternative of foliar nourishing. Concentrations of magnesium sulfate are additionally almost nonpartisan, when contrasted with basic salts of magnesium, like discovered in limestone; in this way, the utilization of our product as a magnesium hotspot for land does not altogether change the pH of soil.

Other
Our magnesium sulfate monohydrate is normally utilized as a desiccant in natural synthesis because of its proclivity for water. Amid work-up, a natural stage is immersed with magnesium sulfate at the point it no longer makes bunches. The hydrated strong is then evacuated with decantation or filtration. Different inorganic sulfate salts, for example, calcium sulphate and sodium sulphate may additionally be utilized in similar way.
Further, our magnesium sulfate monohydrate is utilized as a part of shower salts, especially in buoyancy treatment, where high solutions rise the shower water's particular gravity, adequately enabling the body more light. Conventionally, it is additionally utilized to plan foot showers, proposed to relieve sore feet. The explanation behind the incorporation of the salt is halfway cosmetic: the expansion in ionic quality keeps a portion of the brief skin wrinkling (incomplete maceration) that is brought on by drawn out submersion of furthest points in immaculate water. In any case, our magnesium sulfate monohydrate can additionally be assimilated into the skin, diminishing inflammation. This is actually available in several mineral waters.
It might additionally be utilized like a coagulant for preparing tofu.
Pregnancy Usage
In those ladies who are at danger of an premature delivery, our magnesium sulfate monohydrate seems to diminish the danger of cerebral paralysis.

Magnesium Sulphate Monohydrate
| | | |
| --- | --- | --- |
| Test | Specification | Result |
| Description | A White Powder | White Powder |
| Solubility. | Free soluble in water | Complies |
| Identification | a) To pass test. b) To pass test. | Passes the test. |
| Arsenic | Not more than 3 ppm | Less than 3 ppm |
| Heavy Metals | Not more than 15 ppm | Complies |
| Iron | Not more than 30 ppm | Complies |
| Chloride | Not more than 400 ppm | Complies |
| Assay ( on Dry basis) | Not less than 98.0% | 98.81% |
| Mg Content | Not less than 16% | 16.92% |
Physical and Chemical Characteristics:
| | |
| --- | --- |
| Properties | Standards |
| Appearance | Yellow Granular |
| MgO content | 27.0% min |
| Soluble MgO | 21.0% min |
| S | 22% min |
| Water Solubles | 23% min |
| Humidity | 5% max |
| pH | 6-9 |
| Particle Size | 2-4mm |